Digital Wallet
Digital Wallet
At Fidelity Bank, you get the latest in digital banking technology to make banking from anywhere as easy and convenient as possible. With Digital Wallet, you can make quick and secure payments from your smartphone. No card needed.
Digital Wallet
Avoid carrying plastic cards that can be lost or stolen
Securely make payments without transmitting your card number or name
Reduce your chance of fraud
Pay quickly and easily using your mobile device
Stay safer and more secure than ever with Digital Wallet. Rather than leave your card information open to fraud, add your Fidelity Bank Visa® Debit Card to your digital wallet and pay using encrypted keys that are passed during the transaction. The retailer never sees your card number or name, so you never have to worry about your information ending up in the wrong hands.
Digital Wallet Tutorial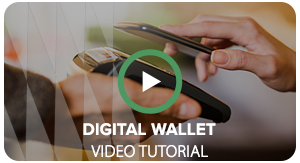 Apple Pay™
Use Apple Pay for purchases without swiping your cards. And you can buy inside apps without entering your payment and contact information.
You'll need a compatible iPhone® or iPad®.
Open the Apple app called "Wallet" and select "Add Credit or Debit Card".
Take a picture of your card and fill in the 3-digit security code on the back along with any other missing information or type in manually.
Google Pay™
This is an easy and safe way to pay with your Android® smartphone and it's easy to set up. First, locate or download the Google Pay application to your device. Then add your Fidelity Bank Visa® Debit Card. From there, just unlock your phone to pay at contactless terminals.
1. Download the Google Pay app.
2. Add your Fidelity Bank Visa® Debit Card – it's as simple as snapping a photo.
3. Pay confidently at over a million locations in the U.S.
Samsung Pay™
With this mobile service, you can make purchases with a compatible Samsung device almost anywhere you can swipe or tap your Fidelity Bank Visa Debit Card. After adding your card, making a purchase is simple. Swipe up on the screen to launch the app and place your finger on the Home key. Then hover your Samsung device over the card reader.
1. Make sure your compatible Samsung device is updated with Samsung Pay.
2. Take a picture of your Fidelity Bank Visa Debit Card with your device's camera.
3. Secure it with your fingerprint and backup PIN and you'll be ready to go.
Apple and the Apple logo are trademarks of Apple Inc., registered in the U.S. and other countries. Apple Pay is a trademark of Apple Inc. Android, Google Pay, and the Android Logo are trademarks of Google Inc. ©2015 Samsung, Samsung Pay, Samsung Galaxy and Galaxy S (and other device names) are trademarks or registered trademarks of Samsung Electronics Co., Ltd. Use only in accordance with law.
Educational Center
Take control of your financial future