Mobile Deposit
Mobile Deposit
Make Deposits Anytime, Anywhere, in the Fidelity Mobile Banking App. Mobile Deposit allows you to deposit checks directly into your Fidelity Bank checking account or savings account by simply snapping a photo of the check with your smartphone. In five simple steps, you can deposit checks anytime, anywhere, safely and conveniently. Plus, you'll receive immediate confirmation that your deposit has been received.
After depositing your check using Mobile Deposit, please follow these best practice guidelines:
Write "Mobile Deposit" and the date on the front of your check. The date should be the month, day, and year of your deposit.
Securely store your check for 5 days after your deposit, and then destroy it. This allows sufficient time in case the original check is required for any reason.
Remember, once you deposit your check via a mobile device, you can no longer cash it in any other way (such as at the teller line).
Mobile Deposit Tutorial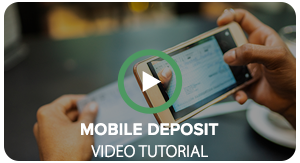 Resource Center
Fidelity Bank offers a variety of convenient resources and tools. Educational articles, Frequently Asked Questions, Instructional Videos and more are at your fingertips.