Business Online Banking
Business Online Banking
With Fidelity Bank Business Online Banking, you can save time, improve your cash flow, and streamline your cash management procedures all in a fully secure environment. 

Not an Online Business Banking Customer?
Please call us at 1-800-388-4380 or stop by any branch to inquire about signing your business up for Fidelity Bank Business Online.
Business Online Banking Features
Real-Time Account Balances
Direct Deposit of Payroll
ACH Origination
Wire Transfers
Transfer Funds between accounts in real time
State and Federal Tax Payments
Detailed Transaction Histories
Check Images
Scheduled Payments
Safe and Secure Environment
Use the advanced and flexible funds management capabilities to make controlled disbursements, transfers and payments (that is, ACH, wires, and internal transfers), and tax and loan payments. Additionally, you can use Business Online to access and approve stop payments, file transfers, and fund transfers. Administrative features offer flexible management of employee rights in multiple user environments. Employees can be set up with access options, review requirements, time-of-day access, password control, and more.
Video Tutorial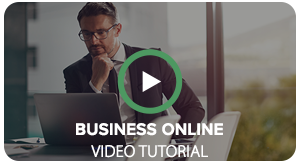 The ease of Web Bill Pay is available for both personal and business Fidelity Bank accounts and offers the fastest, easiest and most convenient way to pay your bills. You can set up Web Bill Pay so you can make individual payments or recurring payments on pre-scheduled dates.
Web Bill Pay is also a safe and easy way to keep track of your finances; less paper means less room for error. Plus, with state-of-the-art fraud detection technology, Web Bill Pay from Fidelity Bank provides you with peace of mind knowing your personal information will remain secure.
With Fidelity Bank EZ Statements you'll receive paper-free, monthly, automatic email notifications when your statement is available for viewing online. Your electronic statement has all the same information as your print statements, and they can be accessed, saved and printed anytime you like.
The updated Fidelity Bank Business App makes it easy to initiate and approve bill payments from your mobile device, saving your business the most valuable resource of all — time.
If you already use our Business Online Banking service, simply search for the Fidelity Bank Business App in the app store on your iOS or Android device. After you've downloaded the app, log in with your Business Online Banking credentials. That's it!
If you are a new Business Online Banking client, please call our Client Care Center or talk with one of our Bankers so they can assist you. Sign up for all the great benefits of Business Online Banking and our other mobile products! Make sure your app is the up-to-date for the best quality user experience and all the added security functions.
Alerts in Fidelity Bank's Business Online and Business App allow you to stay on top of your finances wherever you go. Fidelity Bank is pleased to provide enhancements to Alerts that provide even more functionality.
Choose from dozens of new, real-time notifications to monitor account activity
Set up new "Do Not Disturb" delivery options
Send alerts to multiple text numbers or email addresses
View expanded alert history
And much more!
Already have Alerts set up? Great! Simply log into Business Online Banking to manage your alerts.
Mobile Deposit allows you to deposit checks directly into your Fidelity Bank checking account or savings account by simply snapping a photo of the check with your smartphone. In five simple steps, you can deposit checks anytime, anywhere, safely and conveniently. Plus, you'll receive immediate confirmation that your deposit has been received.
After depositing your check using Mobile Deposit, please follow these best practice guidelines:
Write "Mobile deposit on Date" on the front of your check. The date should be the month, day, and year of your deposit.
Securely store your check for 5 days after your deposit, and then destroy it. This allows sufficient time in case the original check is required for any reason.
Remember, once you deposit your check via a mobile device, you can no longer cash it in any other way (such as at the teller line).
Need help?
For more information or questions, please contact us by phone at 1-800-388-4380 or email us at Fidelity@fddbank.com.
Resource Center
Fidelity Bank offers a variety of convenient resources and tools. Educational articles, Frequently Asked Questions, Instructional Videos and more are at your fingertips.