Fidelity Mobile Banking App
Fidelity Mobile Banking App
The Fidelity Mobile Banking App provides simple but powerful anytime account management from your smartphone or tablet.
Enjoy the highest level of security available and access your accounts no matter where you are 24 hours a day, 7 days a week.
Fidelity Mobile Banking App Features
No detailed personal information is ever transmitted through the Fidelity Bank Mobile Banking App. A secure login is required, and layers of security enable you to conveniently and safely bank through your smartphone or mobile device.
Fidelity Mobile Banking App Tutorial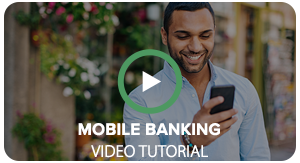 Mobile Banking Services
Card Manager offers the ability to monitor and manage your Fidelity Bank Visa® Debit Card.
Transaction notifications
Enriched transaction data to see where your purchases are made
Recurring payment visibility for subscriptions and cards on file with merchants
Controls and alerts for location, merchant type, and spending limit preferences
Create travel plan notifications when you plan on being out of the area or country
Track spending by month, category and more
Instantly change your settings, giving you complete control over your debit card through the Fidelity Mobile Banking App. To access the new card management features, select "My Cards" under the "Quick Links" section of your Fidelity Mobile Banking App.
Mobile Deposit allows you to deposit checks directly into your Fidelity Bank checking account or savings account by simply snapping a photo of the check with your smartphone. In five simple steps, you can deposit checks anytime, anywhere, safely and conveniently. Plus, you'll receive immediate confirmation that your deposit has been received.
After depositing your check using Mobile Deposit, please follow these best practice guidelines:
Write "Mobile deposit on Date" on the front of your check. The date should be the month, day, and year of your deposit.
Securely store your check for 5 days after your deposit, and then destroy it. This allows sufficient time in case the original check is required for any reason.
Remember, once you deposit your check via a mobile device, you can no longer cash it in any other way (such as at the teller line).
If you're having problems using the Mobile Banking app, please call the Client Care Center at 1-800-388-4380 to see if your phone is compatible.
Resource Center
Fidelity Bank offers a variety of convenient resources and tools. Educational articles, Frequently Asked Questions, Instructional Videos and more are at your fingertips.