EZ Statements
EZ Statements
Want to save time and money? With Fidelity Bank EZ Statements you'll receive paper-free, monthly, automatic email notifications when your statement is available for viewing online. Your electronic statement has all the same information as your print statements, and they can be accessed, saved and printed anytime you like. Enjoy the safety and security of Fidelity Bank Online Protection – an online verification system that keeps your personal information private.
EZ Statements also help you:
Reduce instances of identity theft 
Gain control over your finances with real-time updates for a more accurate financial picture
Reduce clutter and save time
You'll be helping the environment, too! Each year, each household using EZ Statements:
Saves 6.6 pounds of paper
Saves 63 gallons of water
Saves 4.5 gallons of gasoline
Eliminates 171 pounds of greenhouse gases
EZ Statements Tutorial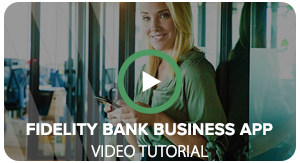 Resource Center
Fidelity Bank offers a variety of convenient resources and tools. Educational articles, Frequently Asked Questions, Instructional Videos and more are at your fingertips.